Service Areas
Please note that the following list includes just some of the areas we serve:
Services
We work on many different types of systems and brands of equipment. Below is a list however there are many additional services we can provide related to HVAC which you can learn about by giving us a call.
Commercial Services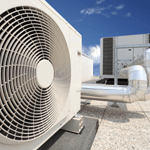 Our commercial department is here to serve all your needs, from light commercial to industrial HVAC applications. We are a company that is committed to excellence in every aspect, from installation to service to customer care. Give us a call and let us take care of all your commercial needs.
New Installation or Upgrade/Replacement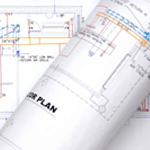 Your home comfort system is most likely the single biggest use of energy in your home. In fact, over a third of the energy used in the United States is used to heat and cool buildings. Having a properly designed and installed heating and air conditioning system will have the biggest impact on your energy costs.
Choose us for your installation. We provide:
Free in-home consultation with one of our HVAC specialists.
Help selecting an energy-efficient heating and air conditioning system that meets your comfort preferences and lifestyle.
Proper sizing of the equipment to meet the unique needs of your home.
A convenient way to pay for your installation through our flexible financing options.
Full factory warranties on all equipment and labor.
Repair Service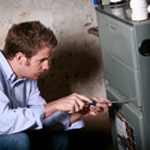 As licensed contractors and specialists in the field of heating and air-conditioning, we have the tools, the equipment, and the experience to keep your equipment running smoothly all year long. If it is emergency service that you need, we are available to assist you, 24 hours a day, 7 days a week.
Preventative Maintenance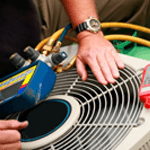 With regular maintenance you will prevent small problems from becoming big problems and ensure optimal performance of your comfort system.  We also offer annual service agreements, which can reduce the cost of a Performance Tune-Up.
Regular maintenance will:
Provide longer lasting equipment
Reduce utility bills
Reduce repairs
Provide a more comfortable indoor environment
Protect your investment
Service Agreements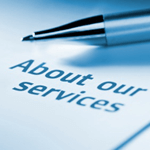 Heating and cooling systems have a way of breaking down when the weather is at its worst; on the coldest day of a frigid winter, or during a sizzling summer heat wave; times when your comfort system must work the hardest, and when you need it most.
Regular check-ups will help to maximize the life expectancy of your system; unfortunately, even the best maintenance won't prevent normal wear and tear. Contact us today for details.
Extended Warranties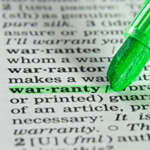 Extended warranties allow customers another opportunity to manage their ongoing costs of operations. Since your heating and air conditioning system is used 24 hours a day, year round, it requires service as it operates.
Reasons why all equipment and labor should be covered by an extended warranty:
Plan and project your costs while protecting against increases in parts or labor.
Factory warranties usually expire prior to the end of the equipment′s life cycle.
Extended warranties can cover the bill for all costs, including labor, during the insured period.
Peace of mind knowing your equipment is covered.
Ask one of our specialists to explain the extended warranties available for your new or existing equipment.
Indoor Air Quality Specialists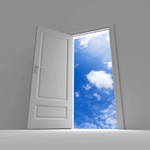 With today's tightly sealed, well insulated homes, the air inside your home can be 2-5 times more polluted than the air outside.
Choose us for services and products to improve your Indoor Air Quality.
We provide:
Free in-home consultation with one of our HVAC specialists.
Air Filtration Products – Remove contaminants such as pollen, mold and pet dander that aggravate allergies.
Humidifiers – Properly control humidity for personal comfort, to protect furniture and wood floors, and reduce static electricity that damages electronics.
Fresh Air Ventilators – Remove cooking, pet and chemical odors by expelling them to the outdoors.
Ultra Violet Lights – Kill airborne microbial growth of mold, bacteria and viruses throughout your home, ductwork and cooling coils.
Carbon Monoxide Detectors – To protect your family from this silent killer.
Zoning and Programmable Thermostats – Keep each area of your home at the proper comfort level to meet your lifestyle.
Duct Sealing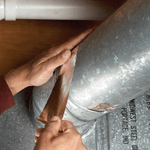 Master craftsmen build a full range of HVAC applications in our own shop.
In-house fabrication ensures a higher level of quality and faster installation.
Sheet Metal Fabrication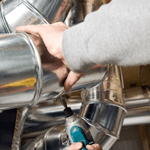 In homes with forced-air heating and cooling systems, ducts are used to distribute conditioned air throughout the house. In a typical house, however, about 20 percent of the air that moves through the duct system is lost due to leaks, holes, and poorly connected ducts. The result is higher utility bills and difficulty keeping the house comfortable, no matter how the thermostat is set.
A duct system that is well-designed and properly sealed can make your home more comfortable, energy efficient, and safer. Contact us for a quote to seal the ducts in your home and improve the performance of your heating and cooling systems.